Picking a wine that complements your meal doesn't have to be a tedious production. There are no defined "rules" for wine pairing, but some helpful tips are a sure-fire way to create a combination that will go well together.
As a professional catering company, Crave strives to recommend pairings based on our combined expertise as well as on the tastes of the client. The old rule used to be red wine with red meat and white wine with fish and seafood but there are a couple things to remember this day and age:
Consider the Sweetness
It is always better to pick a wine that is sweeter than the food you will be pairing it with. This will avoid any bitterness of the tannins to clash with the meal. A port wine is an excellent example of this, its very sweet taste complements desserts handsomely.
Drink What You Like
It doesn't matter how many tips and rules are out there, if you don't like a certain type of wine, pairing it with your food isn't going to make any part of it more enjoyable. Take these tips with a grain of salt and go for a wine you would drink by itself first.
Acidic with Acidic
Try to pair acidic food with acidic wines. The acidity in food is most commonly found in the sauces they are prepared in. For example, a dish with a vinaigrette or citrus sauce would go well with a more tart wine, so go for a Sauvignon Blanc rather than a more rich tasting Chardonnay.
Wine and Beer experts E.C. Krause created an ultimate pairing guide that helps illustrate some general suggestions in creating a good harmony between wine and food. Take a look and start taste testing some wonderful combinations!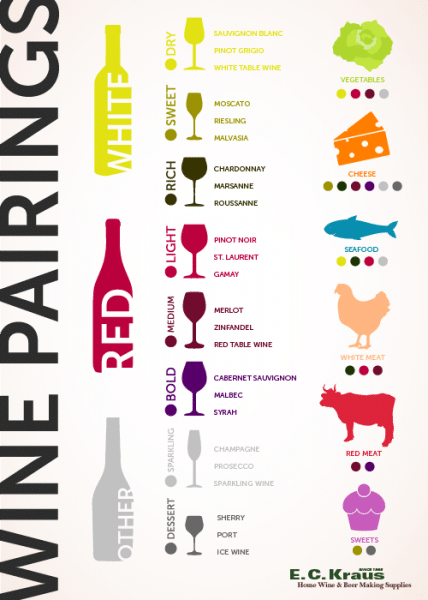 (Photo credit: E.C. Krause/Creative Commons)