Lisa Hause Photography
Austin Hors d'oeuvres Catering

by Leslie LaSora
When you are an attendee at an event like a wedding or fundraising dinner, what's the first thing you get excited about when you walk through the door? For most people, it's the delightful bite-sized morsels that kick off most celebrations: the hors d'oeuvres. At Crave Catering, we love crafting distinctive, innovative hors d'oeuvres that combine fresh ingredients and complex flavors. Our goal is always to delight your guests the moment they arrive and set the tone for an elevated event experience.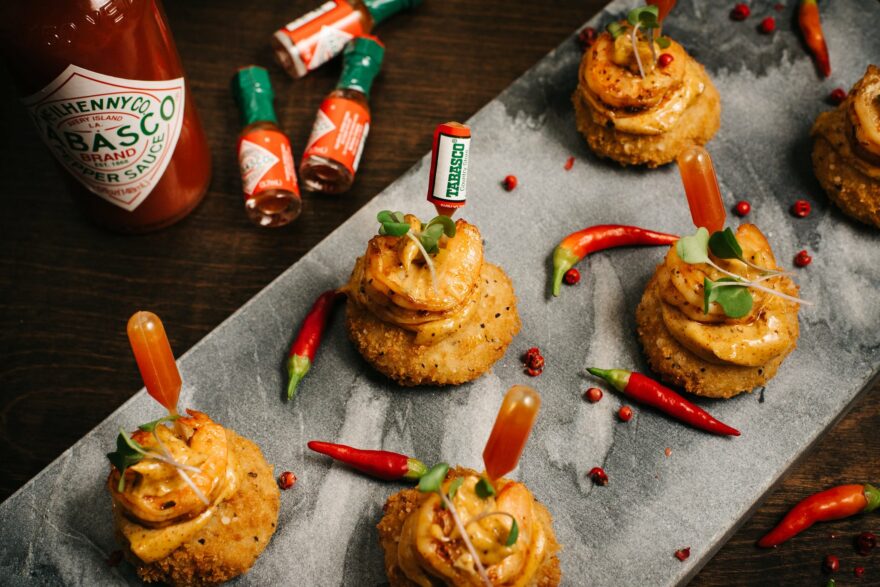 Why Cater Hors d'oeuvres
Hors d'oeuvres are versatile in so many ways. From the way they're served to the flavors they boast, the options are truly limitless. In many cases they are a nibble before the main event, or in some cases you can craft an entire meal serving heavy hors d'oeuvres paired with a few stations. Either way, they're always a beloved part of any celebration, especially for those who love to sample a little bit of everything.
Weddings

Many couples use cocktail hour as a time to finish up their photos and share a quiet moment together before the party gets started. With plentiful hors d'oeuvres and cocktails flowing, the couple can sneak away for those special moments while the guests enjoy. Don't worry—we always make sure the couple has their own selection of hors d'oeuvres so they don't miss out.

Cocktail Events or Happy Hours

One thing that hors d'oeuvres are truly made for is mingling. They're crafted to be eaten standing up, moving around, while chatting—all in a way that they're not messy and don't require extensive silverware or special plating. When celebrating a milestone event like an awards dinner or retirement salute, people are going to want to spend time talking with other guests and catching up with friends, which is why starting the evening with hors d'oeuvres is ideal.

Holidays

So many holiday parties are centered around festive hors d'oeuvres. Whether it's plated hors d'oeuvres that are spread around your home during an intimate family holiday celebration or passed hors d'oeuvres at the company holiday party, the small bites are a perfect way to get people nibbling while they indulge in a holiday specialty cocktail.
What to Consider When Catering Hors d'oeuvres
To many, catering with hors d'oeuvres can become slightly overwhelming, as it's slightly more complex than something like a simple sit-down meal. Luckily, our Crave Catering team is expert in crafting events that are enhanced by the addition of hors d'oeuvres, and they can guide you through the planning and all you need to know about incorporating hors d'oeuvres into your next catered event. A few things to consider are:
Guest Count
Guest count is critical when it comes to successful catering and event planning. In terms of hors d'oeuvres, the number ordered typically directly corresponds to a number of pieces per person. Therefore, we utilize the guest count for accurate planning to ensure that you're ordering the perfect amount for you and your guests to enjoy.
Location
Hors d'oeuvres are appropriate for celebrations in any location. From the office to a specialty venue, there are so many options in a city like Austin to host your event. For many that want to incorporate the celebration into the workday, they'll get a catered cocktail hour brought right to the office for a little office happy hour with simple hors d'oeuvres. If it's a large celebration like a wedding, awards dinner, gala or holiday party, check out some of our partner venues to peruse and get an idea of what type of venue may be the best fit for your event. One thing to consider when selecting hors d'oeuvres is that many require preparation that is slightly more complicated and could require more equipment on site. For that reason, you may have to select simpler options if the venue selected doesn't have the appropriate means or space to prepare the food. However, don't fret—these are all details our Crave Catering team will work out with you for your ideal event.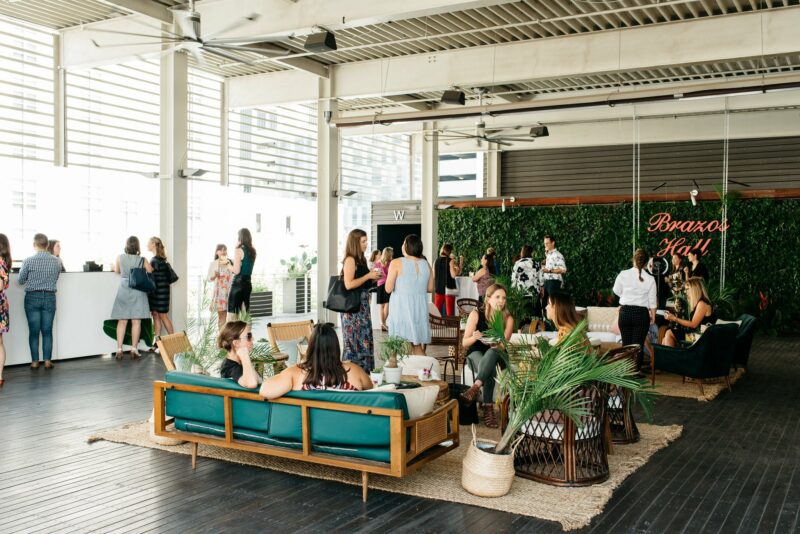 Inclusive Selections
Just as if you were planning a buffet or plated meal option, you're going to want to ensure that there is a selection that caters to all guests' preferences and food allergies. You won't want to create a menu that incorporates six beef hors d'oeuvres and just one vegetarian option. The goal is to strike a balance. Our team is expert at crafting menus that ensure everyone will enjoy a few of the hors d'oeuvres selections. Ensuring you have red and white meat options, seafood options, vegetarian and vegan options along with gluten-free and dairy-free options is typically a good place to start when planning your hors d'oeuvres selection.
How Much to Serve
This is a question that everyone asks: how many hors d'oeuvres should I serve? The answer—it's all about the amount of time you'll be serving them, if they're combined with other food options for the evening, and how many guests you expect. Here's a quick breakdown:
Quick cocktail hour prior to dinner (30 minutes – 1 hour) = 2 to 4 pieces per person
Long cocktail hour prior to full dinner (1.5 hours – 2 hours) = 5 to 6 pieces per person
Standard event serving heavy hors d'oeuvres for dinner (2 hours – 4 hours) = 8 to 10 pieces per person
Long event serving only heavy hors d'oeuvres (over 4 hours) = 12 to 15 pieces per person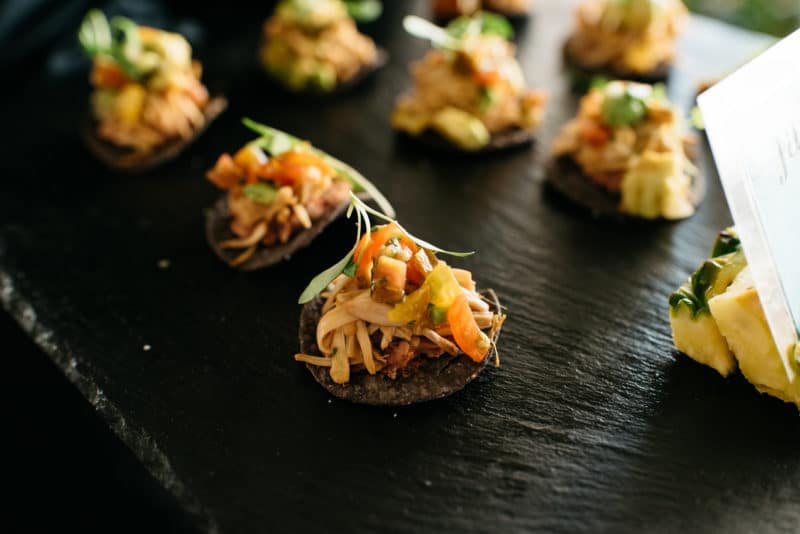 This is just a quick overview, but our Crave Catering team will work with you to ensure all bases are covered for the perfect amount of hors d'oeuvres with a wide selection crafted for you and your guests.
Alcohol Service
Many ask if they can serve alcohol at a heavy hors d'oeuvres-based event. The answer is absolutely! However, we recommend sticking to lighter specialty cocktail options, beer and wine and estimating on the higher end of pieces per person to make sure guests are eating enough to satiate themselves.
Crave Catering Highlighted Review
"Y'all. Our wedding was five months ago, and people are STILL raving about the food at our wedding. Sarah and Crave Catering were amazing to work with and took incredible care planning every detail—from "his and hers" passed appetizers, a delicious two course dinner and a very romantic couple's dinner for my husband and I right after our ceremony."—Danielle U., The Knot
Austin Hors d'oeuvres Catering Ideas
When our Crave Catering chefs get to dream up decadent hors d'oeuvres, they're in a creative haven that produces the most delicious small bites. We love seeing what they come up with to fit the seasonal products available, the theme of the event or the desires of a client. No matter what, every bite is indulgent and delicious and leaves you craving more.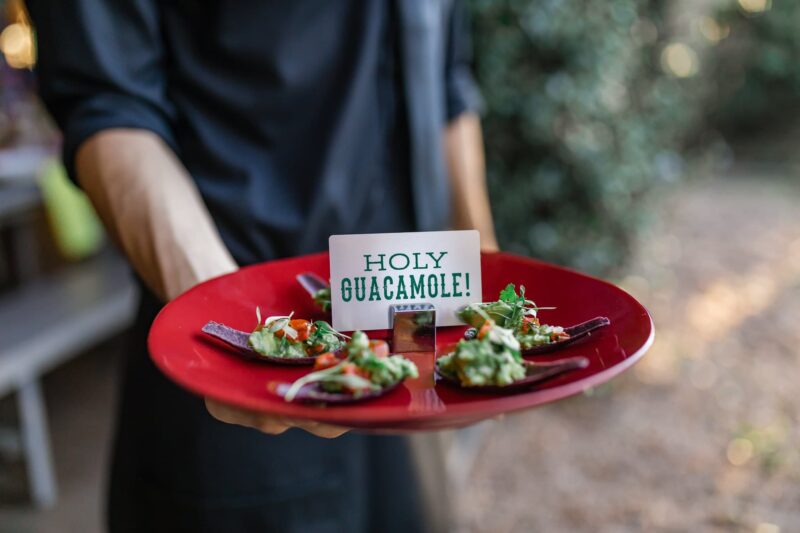 A few of our recent favorites are:
Shrimp n' grits cake with creole cream sauce
Buffalo empanadas with chimichurri crème fraiche
Holy guacamole on a tortilla chip spoon
Mini croque monsieur
Goat cheese stuffed strawberries with balsamic pearls
Venison carpaccio atop garlic rubbed toast with fried quail egg, frisee, capers and micro greens
Ahi tuna tartare served atop a wonton crisp with tobiko caviar, wasabi sesame seeds and micro greens
Ginger-lime compressed melon with crab, jalapeno and cilantro
Mini chicken and waffle slider with bourbon maple reduction and micro celery
Eggplant caponata crostini with balsamic reduction and basil crystals
Is your mouth watering yet?
Our Crave Catering team is ready to help you dream up your ideal selection of hors d'oeuvres to delight guests at your next social or corporate event. Contact us online or call us at 512.828.5797.
Contact Us