'Tis Christmas Eve and we hope everyone is celebrating the holidays with their families, friends and loved ones. Whether you are attending a Christmas feast or hosting it yourself, Crave Catering wanted to give you a little inspiration with a variety of easy appetizers from around the web we thought would be perfect for any holiday party. Enjoy and Happy Holidays from Crave Catering!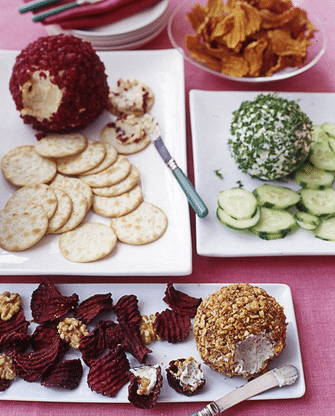 (Recipe and photo courtesy of Martha Stewart)
Base Recipe:
1/2 cups (1 stick) softened unsalted butter
3 (8 oz.) packages  cream cheese
2 tablespoons fresh lemon juice
1/2 teaspoons Worcestershire sauce
5 dashes Tabasco
1/2 teaspoons coarse salt
1/4 teaspoons  white pepper
Cheddar and Cranberry Cheese Ball:
8 oz. sharp orange cheddar cheese, finely shredded
2 tablespoons chutney
3/4 cups dried cranberries, finely chopped
Water crackers, for serving
Roquefort and Walnut Cheese Ball:
6 ounces Roquefort cheese
1 shallot, minced
2 teaspoons brandy (optional)
1 cup toasted walnuts, coarsely chopped
Vegetable chips, for serving
Goat Cheese and Scallion Cheese Ball:
8 oz. goat cheese
2 tablespoons finely chopped scallions
1/3 cups fresh curly-leaf parsley, finely chopped
1  cucumber, cut into 1/8-inch-thick slices, for serving
---
Directions
Put butter, cream cheese, lemon juice, Worcestershire sauce, hot sauce, salt and pepper into the bowl of an electric mixer fitted with the paddle attachment; mix on medium speed until combined. Divide equally among 3 medium bowls.
Stir cheddar cheese and chutney with base mixture in the first bowl. Form into a ball. If not using immediately, refrigerate up to 3 days or freeze up to 1 month. Roll cheese ball in cranberries to coat before serving. Serve with crackers.
Stir blue cheese and shallot with base mixture in second bowl; add brandy, if desired. Form into a ball. If not using immediately, refrigerate up to 3 days; freeze up to 1 month. Roll in walnuts to coat before serving. Serve with chips.
Stir goat cheese and scallions with base mixture in remaining bowl. Form into a ball. If not using immediately, refrigerate up to 3 days or freeze up to 1 month. Roll in parsley to coat before serving. Serve with cucumber slices.
Mustard-Onion Jam Crackers with Fig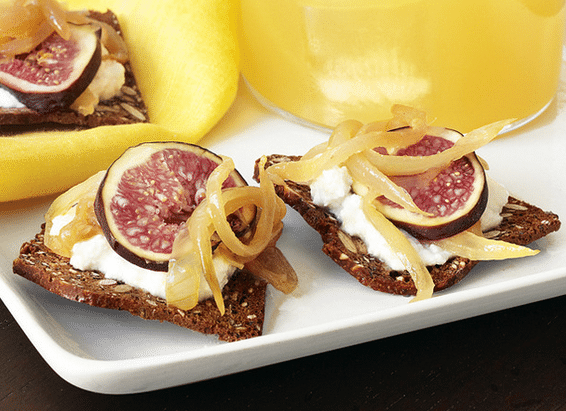 (Photo courtesy of John Kernick/ FoodNetwork.com)
Ingredients
2 tablespoons extra-virgin olive oil
2 large yellow onions (about 1 1/2 pounds), quartered and thinly sliced
Kosher salt
6 tablespoons apple cider vinegar
1/4 cup fresh orange juice
2 to 3 teaspoons sweet-hot German mustard
Nut crisps or pita crackers (about 60), for serving
1 1/2 cups fresh ricotta cheese
1 pint fresh figs, stemmed and sliced
Directions
Heat the olive oil in a small saucepan over medium heat. When it shimmers, add the onions and 1 tablespoon salt; cook, stirring occasionally, until the onions are softened, just broken down and are beginning to color, 12 to 15 minutes.
Stir in 4 tablespoons vinegar and the orange juice; cook, stirring occasionally, until the mixture is mostly broken down, thickened and golden brown, 7 to 10 minutes.
Remove from the heat; stir in the remaining 2 tablespoons vinegar and the mustard. Taste and adjust the seasoning.
To assemble, top each crisp or cracker with about 1 teaspoon ricotta, 1/2 teaspoon mustard-onion jam and a slice of fig.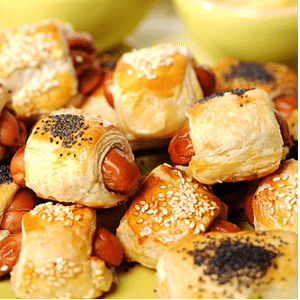 (Photo courtesy of Martha Stewart/Delish.com)
Ingredients:
1 tablespoon(s) olive oil
1 large onion, thinly sliced crosswise
2 pound(s) (about 60) mini hot dogs
Cheddar cheese (optional), cut into small pieces
1 large egg
All-purpose flour, for work surface
1 box(es) (17 1/2-ounce) frozen puff pastry, thawed
Poppy, sesame, or mustard seeds, optional
Mustard, for serving
Ketchup, for serving
---
Directions
Prepare caramelized onions for filling (optional): In a medium skillet over medium heat, heat olive oil. Add onions and cook, stirring occasionally, adding a little bit of water as necessary if onions begin to stick, until deep golden brown, about 30 minutes. Set aside to cool.
Cut hot dogs lengthwise 3/4 of the way through. Insert a piece of cheese or 1/2 teaspoon caramelized onions into each hot dog, if using; set aside. If not using cheese or onions, poke hot dogs several times with the tip of a knife.
On a lightly floured work surface, working with one sheet of puff pastry at a time, roll into a 14-by-11-inch rectangle. Cut lengthwise into seven 1 1/2-inch wide strips. Cut each strip crosswise into 4 rectangles, each about 3 1/2 inches long.
In a small bowl, beat together egg and 1 tablespoon water; set aside. Line baking sheets with parchment paper or a nonstick baking mat; set aside. Place a hot dog on the narrow end of one piece of pastry. Roll to enclose, brushing with some of the beaten egg to adhere; transfer to prepared baking sheet. Repeat process with remaining hot dogs and pastry. Brush the tops of puff pastry with egg and sprinkle with seeds, if using. Transfer to refrigerator and let chill for 15 minutes.
Preheat oven to 450 degrees.
Transfer baking sheets to oven and bake until puffed and golden, about 20 minutes. Let cool briefly before serving with mustard and ketchup.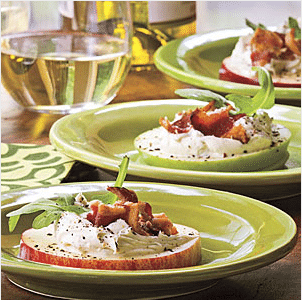 (Photo Courtesy of Ralph Anderson/ Myrecipes.com)
Ingredients:
Red Delicious apple slices
Lemon juice
Garlic-and-herb spreadable cheese
Bacon, cooked and crumbled
Baby arugula sprigs
Freshly cracked pepper
Directions:
Toss apple slices in lemon juice; pat dry.
Spread each with about 2 tsp. garlic-and-herb spreadable cheese.
Top with bacon, baby arugula sprigs, and freshly cracked pepper.