A happy Cinco de Mayo to all of our Crave Catering followers! It has become a tradition on this blog to share a drink recipe with everyone on this day. For our events, whether a wedding, corporate event or a social gathering, we work really closely with our clients to create custom cocktails to fit the theme and elements of the events they are hosting. Check out our recipe for our classic 3-2-1 Margarita.
The recipe uses the traditional 3-2-1 ratio of three parts tequila, two parts good triple sec and one part lime juice. Serve it on the rocks with salt like you see here, or serve it up in a chilled glass if you prefer.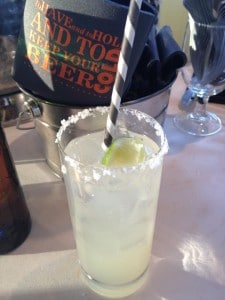 Instructions
Pour enough salt on a small plate to cover it.

Rub the lime wedge on the outside rim of a 4-ounce cocktail glass. Holding the glass at a 45-degree angle, dip the outside rim in the salt, rotating as you do, so the entire rim is coated with salt. (Avoid getting any salt inside the glass.) Fill the glass with ice and place it in the freezer to chill.

Add the tequila, triple sec, and lime juice to a cocktail shaker and fill the shaker halfway with ice. Shake vigorously until the outside of the shaker turns frosty.

Strain the margarita into the chilled glass and garnish with a lime slice.