Marshmallow Peeps, Cadbury eggs and chocolate bunnies are normally the treats that come to mind when you think of the Easter holiday. Whether you celebrate Easter or not, the consumption of delicious treats on this weekend seems to be inevitable. Crave wanted to share some easy recipes to enjoy with family and friends. Happy Easter!
Easter Veggie Boats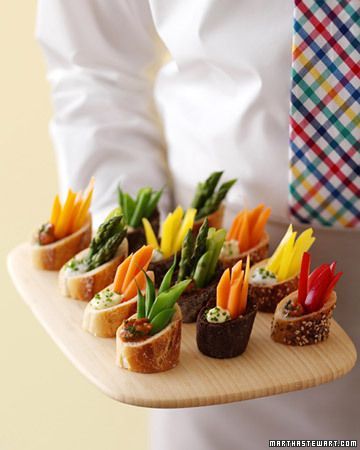 This quick and simple recipe from Martha Stewart is perfect as an appetizer that requires little preparation. Julienne any vegetables you like and pick your favorite veggie dip or make your own!
Ingredients:
– 1 large French baguette
-1 cup vegetable dip
-Sliced vegetables (carrots, celery, red bell pepper, cucumber, etc.)
Directions:
Slice a little off of each baguette and then cut into four equal parts. On an angle, cut each wedge in half. Create two vegetable boats out of each part. Hollow out the bread boat, but leave the bottom so it will hold the dip. Add two tablespoons of dip per boat and fill with sliced vegetables. Enjoy!
Chocolate Covered Carrots (Strawberries)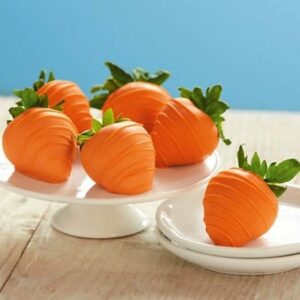 Photo Credit: Harry & David (via Pinterest)
These strawberries look deceivingly healthy… and are so simple you can make this a fun project for kids to do with you. If you don't have time you can order them from Harry & David as well!
Ingredients: 
– 1 pack of strawberries
– 1 bag white chocolate morsels
– orange food coloring
Directions:
Simply melt the white chocolate (we use the double broiler method).
– To melt in a double boiler, place a small amount of water in the bottom pan of a double boiler, the water should not touch the top pot.  Place the chocolate or melting chocolate in the top pot and start heating.  Stir frequently until chocolate is just melted, turn the heat off.
– Add orange food coloring.
– Dip away! (for the texture, dip a toothpick in the chocolate and make a zigzag shape over the strawberries once the first layer of chocolate has hardened.)
Ham-Asparagus and Cheese Strata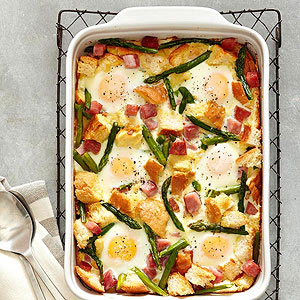 Ingredients:
– 8 ounces asparagus spears, trimmed and cut into 2-inch pieces
– 5 cups French bread cubes
– 2 cups shredded Gruyere or white cheddar cheese, (8 oz.)
– 1/2 cup chopped onion
– 1/4 cup chopped chives or green onions
– 8 ounces cooked ham, diced
– 10 eggs
 Directions:
– Bring a large pot of salted water to boiling. Add asparagus; cook 5 minutes or until bright green.
– In a greased 3-quart baking dish spread half the bread cubes. Top with cheese, onion, chives and half the ham and asparagus. Top with remaining bread.
– In a bowl whisk together four of the eggs and the milk. Evenly pour over layers in dish. Press down bread pieces into the egg milk mixture with the back of a spoon. Top with remaining ham and asparagus. Cover; refrigerate until ready to bake.
– Bake, uncovered, in a 325 degrees F oven 30 minutes. With the back of a wooden spoon, press 6 indentations in top of strata. Pour a whole egg into each indentation. Bake 20 to 25 minutes more or until an instant-read thermometer inserted in center of strata registers 170 degrees F and eggs are set. Let stand 15 minutes.
– Cut into squares to serve. If desired, drizzle lightly with olive oil and sprinkle with salt and cracked black pepper.