We are all getting pumped up for the game this weekend! Fans, family, friends and football– man how we love that alliterative combination. While you are prepping for your Super Bowl party, we wanted to share some recipes inspired by local flavors or delicacies from the two teams that made it to the bowl this year. An article on Delish featured these dishes for many other NFL teams as well so be sure to check em out, they're pretty delicious.
Let's see what the perfect dishes for the Broncos vs. SeaHawks would be:
Denver Broncos 
If you've ever been to Mile High Stadium, the "Regional and Specialty" concession stands contain all sorts of delicious foods. From steak sandwiches to nachos con carne, the Broncos stadium sure knows how to do it right.
Nachos Supremo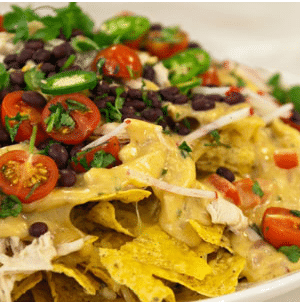 Ingredients
4 bone-in, skin-on chicken breast halves
Coarse salt
Freshly ground pepper
1 1/2 bag(s) 16 ounces each, tortilla chips
3 cup(s) shredded cheddar cheese
3 cup(s) shredded Monterey Jack cheese
Black Bean and Cherry Tomato Salsa, for serving
Charred Tomatillo Salsa, for serving
Nacho Cheese Sauce, for serving
Guacamole, for serving
Sour cream, for serving
Sliced jalapenos, for serving
Julienned radishes, for serving
Chopped fresh cilantro, for serving
Black Bean and Cherry Tomato Salsa
1 pint(s) cherry tomatoes, halved
1 can(s) (15.5 ounce) black beans, rinsed and drained
1/2 cup(s) packed cilantro, coarsely chopped
juice of 1 lime
coarse salt and freshly ground pepper
For Charred Tomatillo Salsa:
2 pound(s) tomatillos, husks removed, rinsed, and patted dry
1/2 large sweet onion, cut into 1-inch pieces
1 large jalapeño, coarsely chopped
2 tablespoon(s) freshly squeezed lime juice
3 tablespoon(s) chopped fresh cilantro
2 tablespoon(s) chopped fresh mint
1 1/2 teaspoon(s) coarse salt
For Nacho Cheese Sauce:
1/3 cup(s) vegetable oil
2 1/2 cup(s) minced red onion
4 jalapeños, minced
1 teaspoon(s) ground cumin
1 teaspoon(s) chili powder
1/2 teaspoon(s) cayenne pepper
1/3 cup(s) all-purpose flour
2 cup(s) heavy cream
3/4 cup(s) lager-style beer
4 cup(s) grated cheddar cheese, about 1 pound
4 cup(s) grated Monterey Jack cheese, about 1 pound
3 tomatoes, chopped
coarse salt and freshly ground pepper
For Guacamole:
2 firm, ripe Hass avocados, halved, pitted, and peeled
1/2 lime
1/2 teaspoon(s) coarse salt
---
Directions
Preheat oven to 400 degrees F.
For nachos: Season chicken with salt and pepper and wrap in parchment paper-lined foil; place on a rimmed baking sheet. Transfer to oven and bake until chicken is cooked through, about 1 hour.
For black bean salsa: Place tomatoes, black beans, cilantro, and lime juice in a medium bowl; season with salt and pepper. Stir to combine.
For tomatillo salsa: Preheat broiler with rack set in upper position. Place tomatillos on a rimmed baking sheet and broil, turning once, until skins are blistered and charred, about 10 minutes. Remove from broiler. Transfer baking sheet to a wire rack and let cool on baking sheet.
Meanwhile, place onion, jalapeno, lime juice, cilantro, mint, and salt in the bowl of a food processor. Quarter tomatillos and add them, along with any accumulated juices from the baking sheet, to the bowl of the food processor; pulse just until combined.
Transfer salsa to refrigerator and let chill for at least one hour before serving and up to overnight.
For cheese sauce: Heat oil in a large saucepan over medium heat. Add onion, jalapenos, cumin, chili powder, and cayenne pepper; cook, stirring, until onion is very soft, about 6 minutes. Add flour and cook, stirring, 1 to 2 minutes.
Slowly add cream and beer; cook, stirring, until thickened, about 5 minutes. Add both cheeses and tomatoes; cook, stirring, until melted and well combined.
Remove from heat and season with salt and pepper; serve immediately with nachos.
For guacamole: Mash avocados with a fork or potato masher in a medium bowl to a chunky consistency. Juice lime over mashed avocados, and stir. Mix in salt. Serve immediately.
Unwrap chicken; remove skin and discard. Remove chicken from bones and cut into small pieces; discard bones and set chicken aside.
Decrease oven temperature to 350 degrees. Layer one third of the chips on a large ovenproof platter or in a baking dish. Top with 1 cup cheddar and 1 cups of Monterey Jack. Repeat process twice with remaining chips and cheese. Transfer to oven and bake until cheese is melted, 5 to 10 minutes.
Remove from oven and top with reserved chicken, black been and cherry tomato salsa, charred tomatillo salsa, nacho cheese sauce, guacamole, sour cream, jalapenos, radishes, and cilantro; serve immediately.
Seattle SeaHawks
Seattle's best seafood has to include Dungeness crab. Take this excellent steamed version for example:
Steamed Dungeness Crab w/ Meyer Lemon Aioli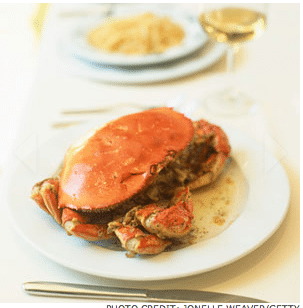 Ingredients
2 (large) egg yolks
1/2 teaspoon(s) Dijon mustard
1/2 cup(s) extra-virgin olive oil
1 clove(s) garlic, minced
1 tablespoon(s) fresh Meyer lemon juice or regular lemon juice
Salt and freshly ground black pepper
2 (large) cooked Dungeness crabs, halved
---
Directions
In a medium bowl, whisk the egg yolks with the mustard. Slowly drizzle in the olive oil, whisking constantly, until a thick mayonnaise forms. Whisk in the minced garlic and lemon juice and season with salt and black pepper. Serve the steamed crab with the lemon aioli.
Make Ahead: The Meyer lemon aioli can be made up to 1 day ahead and stored, covered, in the refrigerator.
Wine Recommendation: Fresh Dungeness crab has a delicate sweetness that's delicious with citrusy flavors – whether it's a lemon aioli or a Sauvignon Blanc. Consider Wente's 2005 Livermore Valley Sauvignon Blanc, which has a gooseberry-grapefruit juiciness.
Have an awesome game day everyone!