Munchie Monday: Venison Carpaccio
Happy Monday! If you're starting off the week on the wrong side of the bed, cheer up buttercups. This delicious appetizer will make you feel better in no time.
This week we are featuring our very own Venison Carpaccio. To those that are not familiar, carpaccio is a dish made with raw protein (primarily from beef, veal, venison, salmon or tuna) that is thinly sliced or pounded thin.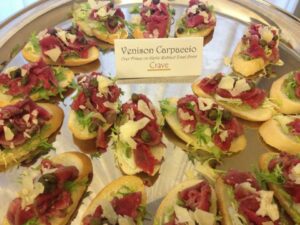 Crave Catering's rendition is placed neatly on a toast point and topped with a perfect combination of frisée, capers and shaved parmesan.
Happy munchin!