Happy Rosh Hashanah! For those that are not familiar, Rosh Hashanah is the Jewish New Year. It is a two-day celebration, which begins on the first day of Tishrei. Meals during this holiday usually include apples and honey to symbolize a sweet new year as well as a traditional baked pudding dish we are sharing with you today, Kugel.
Made from egg noodles, this Apple Noodle Kugel is slightly sweet which differs from the potato based kugel.
Apple Noodle Kugel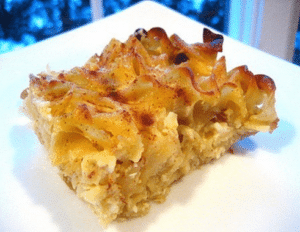 (Photo Credit: Marlene Sorosky/Tastebook)
INGREDIENTS
3 large eggs
1/2 stick unsalted butter, melted and cooled
1/2 cup sugar, divided
1 teaspoon grated lemon zest
1/4 teaspoon grated nutmeg
1 1/2 pound Gala apples (about 3), peeled and coarsely grated on large holes of a box grater
5 ounces fine egg noodles (4 cups)
Accompaniment: sour cream
DIRECTIONS
Preheat oven to 425°F with rack in upper third. Butter a 1 1/2-quart gratin or other shallow baking dish.
Whisk together eggs, butter, 7 tablespoons sugar, zest, and nutmeg in a large bowl until well combined, then stir in apples.
Cook noodles in a large pot of salted boiling water until al dente, about 5 minutes. Drain noodles, then toss well with apple mixture. Spread in baking dish and sprinkle with remaining tablespoon sugar.
Bake kugel until top is golden, about 30 minutes. Cool 5 minutes.