The Latin culture that permeates Austin has influenced a lot of the cuisine we see today. Some call it "Tex-Mex"and we believe that word perfectly describes some of the inspiration we find in our dishes. For example, we have served various types of empanadas over the years, filling them with whatever our clients desire from savory to sweet. We wanted to share a recipe for spicy empanadas filled with ground beef and a blend of spices that give it that Tex-Mex flavor. Our empanadas can be made extra spicy by adding habanero peppers like the recipe below. These can be made into miniature versions and passed around as appetizers like the picture of Crave's specialty spicy empanadas. Enjoy!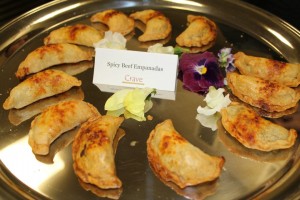 Spicy Beef Empanadas
INGREDIENTS
2?3 tablespoon cooking oil
2?3 lb ground beef
1 2?3 shallots, finely chopped
1 2?3 garlic cloves
2?3 red chili pepper, seeded and finely chopped
1?3 red bell pepper, finely chopped
1?3 tablespoon ground cumin
1?4 tablespoon chili powder
1?3 teaspoon cayenne pepper
1?3 tablespoon all-purpose flour
7?8 ounce concentrated tomato paste
1 2?3 tablespoons tomato ketchup
1?3 tablespoon Worcestershire sauce
1?3 tablespoon white wine vinegar
1?4 tablespoon habanero sauce
1?4 lemon, squeezed
1 large hardboiled egg, finely chopped
1?8 cup jalapeno pepper, finely chopped
1?3 cup cilantro, chopped
1?3 to taste salt and pepper
2 2?3 sheets puff pastry
2?3 eggs, beaten (for glaze)
DIRECTIONS
Pre-heat oven at 375°F Pour some cooking oil in a skillet and press cloves over the pan. Add chopped shallots and fry on low heat, until soft but not browned. Add asalt and the chopped red chili pepper.
Add ground beef and brown on med-high heat. Drain the mixture put back in skillet. Add bell pepper and cook on high for about a minute.
Turn heat to med-low and add cumin, chili powder, cayenne pepper, flour, and tomato sauce. Turn off the stove and let cool to room temperature.
Now mix some Worcestershire sauce, vinegar, lemon juice, habanero pepper sauce (or tabasco). To add a hint of sweetness, add tomato ketchup, about 5 tbs. Stir in chopped egg, jalapenos and cilantro. Add pepper and salt to taste.
Let pastry thaw and cut 5″ circles.
Put pastry on baking sheet. Put about a spoonful of the meat mixture on one half of the circle. Put some beaten egg on the edges and fold. Press edges with a fork. Put some more egg mixture over the empanadas for glaze. Bake in preheated oven for about 20 minutes until golden brown.