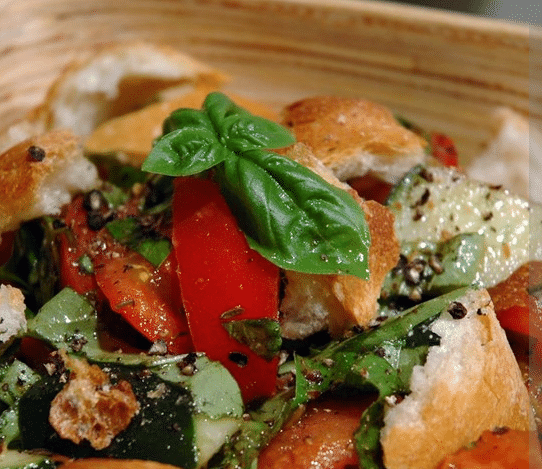 It's funny that we waited patiently for summer to come after all of those rainy days in May and now that it has arrived with full force, we are all burning up in the heat now. The slight breeze in the late afternoon does allow for some nice picnic weather, however, for which we picked the perfect appetizer recipe to show everyone. This quick and easy Italian bread salad works best with day-old bread, preferably a loaf baked with rosemary for added flavor. The nice crunch of the stale bread gives it the perfect texture to enjoy out on the patio or as something to tide you over until dinner time.
Ingredients
2 cloves garlic- 1 whole, 1 minced
1 loaf Italian bread
1 cup cucumber- peeled, seeded and chopped
1 cup red onion- chopped
2 cups chopped fresh basil
1/8 chopped fresh thyme
¼ cup olive oil
2 tbsp. balsamic vinegar
Directions
Rub a peeled clove of garlic around a wooden salad bowl.
Pull apart or chop the bread into bite-size pieces.
In the prepared salad bowl, combine the bread, tomatoes, cucumbers, red onions, garlic, basil and thyme. Add enough olive oil and vinegar to lightly coat, toss and serve.