Toma-toe, toe-mah-toe.
Some people call it dressing, some call it stuffing- but we can all agree it's an amazing staple at Thanksgiving and holiday dinners. Not only does this dish have a variety of names but also comes in endless varieties. Below is a stuffing recipe we love to re-create. Take from it what you will and tweak it to make it your own tradition! From the Crave Catering Team, we hope everyone has a wonderful Thanksgiving. We are so very grateful for all the blessings we have received this year. Happy Thanksgiving!
Sausage, Apple and Cranberry Stuffing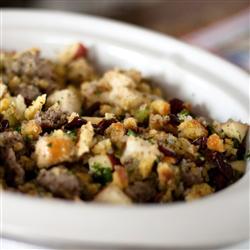 Recipe by: Stacy M. Polcyn/AllRecipes.com
Ingredients
1 Golden Delicious apple, cored and chopped

3/4 cup dried cranberries

1/3 cup minced fresh parsley

1 cooked turkey liver, finely chopped

3/4 cup turkey stock

4 tablespoons unsalted butter, melted
Directions
Preheat oven to 350 degree F (175 degree C). Spread the white and whole wheat bread cubes in a single layer on a large baking sheet. Bake for 5 to 7 minutes in the preheated oven, or until evenly toasted. Transfer toasted bread cubes to a large bowl.

In a large skillet, cook the sausage and onions over medium heat, stirring and breaking up the lumps until evenly browned. Add the celery, sage, rosemary, and thyme; cook, stirring, for 2 minutes to blend flavors.

Pour sausage mixture over bread in bowl. Mix in chopped apples, dried cranberries, parsley, and liver. Drizzle with turkey stock and melted butter, and mix lightly. Spoon into turkey to loosely fill.