Red White and Booze: Fourth of July Recipes
Independence Day is near and there is no other way to celebrate than with an All-American cook out decked out in patriotic swag to commemorate our wonderful country in all its glory. Below are some of our favorite Fourth of July recipes. We hope you celebrate this wonderful holiday with pride. Go USA!
 (photo: Danielle Canada/ Rollingout)
Sobe Pina Colada
Gatorade Fruit Punch
G2 Gatorade Blueberry-Pomegranate
1 Part Whipped Cream Vodka
Start by filling glasses to the brim with ice then pour the drink with the highest sugar content into the cups (Sobe Pina Colada) and fill them approximately one third full. For the second layer pour the second drink with the lower sugar content slowly (Gatorade Fruit Punch) through the ice to fill approximately the second third of the glasses. Finish with the sugar-free drink (G2 Gatorade Blueberry-Pomegranate) and top each glass with vodka. The vodka will sit on top of the creation. Be careful, this drink can be very strong!
White Chocolate Covered Strawberries
with Blue Sugar & Nonpareils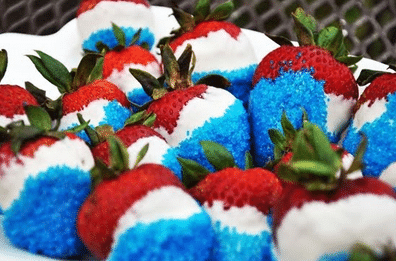 (Recipe & Photos: Mississippi Kitchen (Lorie Roach); licensed under a CC BY 3.0 license)
INGREDIENTS
2 lbs fresh strawberries with fresh green caps attached
2 cups white chocolate chips
1 spoon shortening
blue sugar crystals
blue nonpareils
DIRECTIONS
Wash and dry the strawberries, leaving the green caps: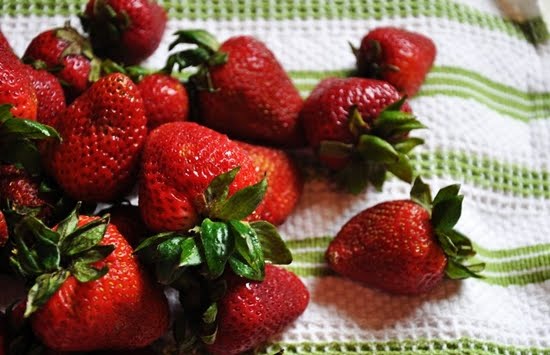 Melt one cup of white chocolate chips and one tablespoon of shortening in a metal bowl placed over some simmering water, and stir until smooth.
Pour blue sugar crystals and blue nonpareils in small bowls: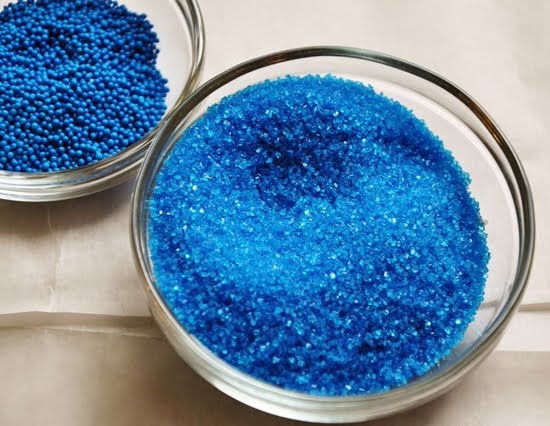 Dip the strawberries in the melted white chocolate: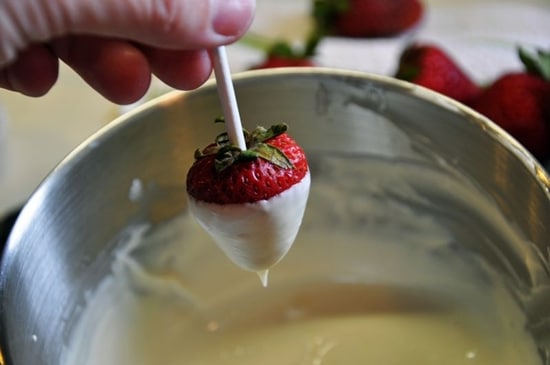 Then in the sugar or nonpareils. Then place them on a wax paper lined baking sheet until they harden: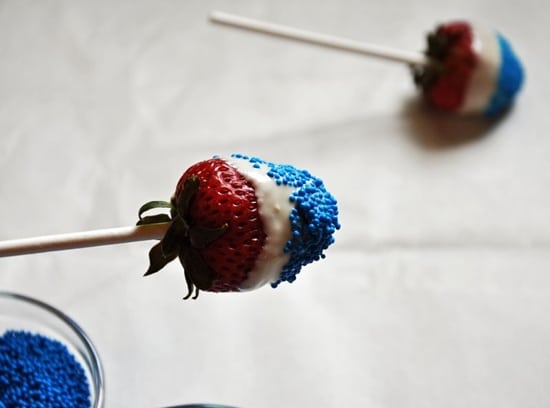 Ingredients:
Chicken Dip:
8 ounces cream cheese, softened
1 cup Miracle Whip (or mayonnaise)
1 teaspoon fresh lemon juice
1 teaspoon Worcestershire sauce
1 (12 oz.) can chunk chicken breast
Cracker Crumb Stars:
8 crackers (plus more for serving)
red and blue food coloring
Supplies:
 electric mixer
mixing bowl
round serving dish or pie plate
food processor or use a rolling pan or pan
Assorted star shaped cookie cutters
zip top bags
 Instructions:
 Beat cream cheese, Miracle Whip, lemon juice, Worcestershire sauce and chicken together using an electric mixer. Spread into a round serving dish.
Have a safe and happy Fourth of July from Crave Catering!