Now that spring is here (kind of) let's take advantage of all the great seasonal produce to make some quick and healthy snacks. One of our favorite food bloggers has just the recipe to keep your stomach full with a hearty and delicious combination: Edamame hummus and radish crostini. Now before you throw in the towel, just know that this recipe is as simple as it is delicious– no complicated steps necessary. Lets get spring going!
edamame hummus & radish crostini
Ingredients
Edamame Hummus:
1 cup edamame
2 teaspoons tahini
1 clove minced garlic
1 teaspoon minced ginger (optional)
juice of 1/2 a medium lemon (about 2 tablespoons)
1/4 cup olive oil (more or less, to your liking)
1/4 cup chopped chives
salt & pepper, to taste
optional toppings: lemon zest, a few sprigs of arugula (or other green)
Yogurt Spread:
1/2 cup 2% fat greek yogurt
squeeze lemon
drizzle of olive oil
a bit of minced garlic
salt & pepper
toppings: radish slices, chopped chives
Instructions
Edamame Hummus: Pulse everything together in a food processor until smooth. Taste and adjust seasonings.
Yogurt Spread: Stir together. Taste and adjust seasonings. Let it sit in the fridge for 10-15 minutes for best flavor. Top grilled bread with sauce, a few radishes, and a few chives.
Grilled Garlic Toasts:Brush olive oil on bread slices. Grill on both sides until lightly charred. Remove and rub slices with the cut side of 1/2 a garlic clove while bread is still hot. Top with above toppings.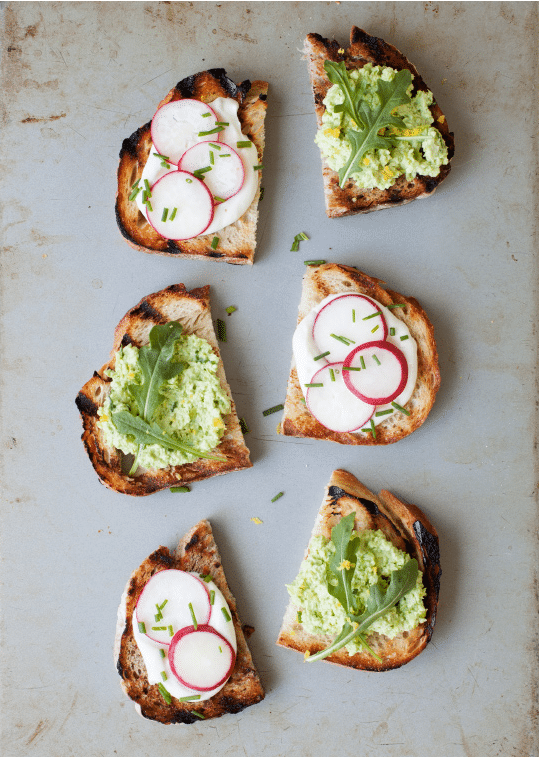 [photo credit: Jeanine/ Love and Lemons]
Check out her original post here.