Super Bowl 2014 is upon us! For all you football fans out there, (we think it's safe to  assume it is about 99.9% of the state of Texas) it's time to start planning those Super Bowl parties! Decorations, ample seating space and a big screen TV are all optional, while the delicious appetizers, main dishes and desserts are a MUST. So whether you are a Sea Hawks or Broncos fan, the food served is always neutral territory for everyone to enjoy. Here are two of our favorite Super Bowl recipes you can share with your fellow fans.
For roast beef:
1 tablespoon(s) kosher salt
1 teaspoon(s) dried lavender or herbes de Provence
2 tablespoon(s) coffee
1 tablespoon(s) sweet paprika
1 1/2 teaspoon(s) smoked paprika
1 piece(s) (2 1/2-pound) boneless beef top round
For the sandwiches:
2 tablespoon(s) olive oil
1 large white onion, thinly sliced
1 red bell pepper, stemmed, cored, and thinly sliced
1 yellow bell pepper, stemmed, cored, and thinly sliced
1 teaspoon(s) kosher salt
1/4 teaspoon(s) freshly ground black pepper
4 tablespoon(s) (1/2 stick) butter, divided
6 hoagie rolls, split
6 slice(s) Provolone cheese
2 cup(s) shredded iceberg lettuce (optional)
---
Directions
To make roast beef: Preheat oven to 350 degrees. Pulse salt and lavender together in a spice grinder or blender until finely ground; transfer to a medium bowl. Alternatively, crush the lavender together with the salt in a small bowl using your fingers or the back of a spoon. Add in coffee and both paprikas.
Rub coffee mixture over entire surface of top round, then arrange on a rack in a roasting pan and roast until a meat thermometer inserted in the thickest part of the beef registers 125 degrees, about 1 hour. Let cool 1 hour, then cover and chill until completely cold, 4 hours. Slice against the grain as thinly as possible.
To make sandwiches: Heat oil in a large skillet over medium heat. Add onion and peppers and cook, stirring occasionally, until softened and just caramelized, about 15 minutes; add salt and pepper. Meanwhile, working in batches, melt about 1 teaspoon butter per roll in a large skillet over medium-high heat. Brown cut sides of rolls until toasted and golden, 1 to 2 minutes; transfer to a plate. Repeat with rest of butter and rolls.
Return skillet to heat and melt remaining 2 tablespoons butter. Working in 2 batches, add sliced beef and cook, tossing occasionally, until browned, 3 to 4 minutes. Return all beef to skillet. Scatter onion and peppers over beef, then top with cheese and cook, without stirring, until cheese melts, 2 to 3 minutes more. Transfer beef mixture to rolls and top with lettuce, if using.
Spinach Artichoke Dip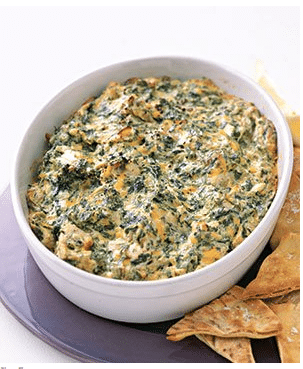 Ingredients
1 10-ounce box frozen cut or chopped spinach, thawed
1 12-ounce jar artichoke hearts, drained and roughly chopped
1/2 cup whipped cream cheese
3/4 cup sour cream
1 cup grated Cheddar
1/2 teaspoon kosher salt
1/4 teaspoon black pepper
pita chips, tortilla chips, or sliced French bread
Directions
Heat oven to 400° F.
Squeeze the spinach between paper towels to remove excess moisture. In a medium bowl, combine the spinach, artichokes, cream cheese, sour cream, and Cheddar. Season with the salt and pepper.
Scrape the mixture into a small oven-safe baking dish. Bake until lightly golden and heated through, about 15 minutes. Serve warm with the chips or bread and the lemon wedges, if desired.
If you don't want to spend the day in the kitchen, be sure to call us for special catering menus! Have a wonderful weekend and enjoy the Super Bowl 2014 from Crave Catering!