Thirsty Thursdays: French 75
We almost get to say TGIF…. ALMOST! While it isn't quite Friday yet, we thought we could feature Crave Catering's version of a French 75. One of our most requested specialty cocktails, this gin drink is  only complete in a chilled glass of champagne flute. Happy Thirsty Thursday!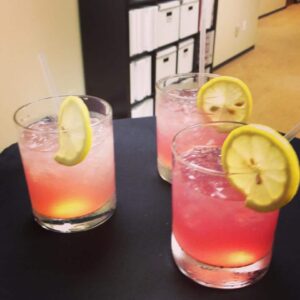 Ingredients1 lemon
3 tablespoons (1 1/2 ounces) gin
1 1/2 tablespoons (3/4 ounce) fresh lemon juice
1 tablespoon (1/2 ounce) simple syrup
1 cup ice cubes
1/4 cup (2 ounces) dry sparkling wine, such as brut Champagne, chilled
Directions
Using zester or paring knife, slice peel from lemon in long, thin spiral. Reserve lemon for another use and set peel aside.
In cocktail shaker, combine gin, lemon juice, and simple syrup. Add ice and shake vigorously for 20 seconds. Strain into chilled Champagne flute and top with sparkling wine.
Curl lemon peel around finger to create twist at least 6 inches long. Garnish drink with twist and serve immediately.