Trending Tuesdays: Unplugged Weddings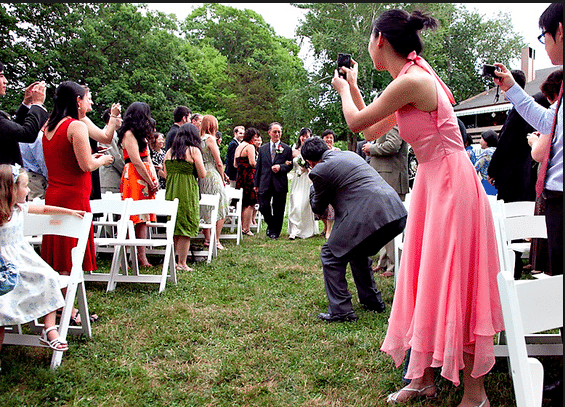 Now, I know we all can't help it sometimes; the allure of getting as many likes as possible on Facebook and Instagram are hard to resist. Today we wanted to talk a little about the brilliant trend for weddings this year that is all too alluring to wedding professionals (mostly wedding photographers) as well as the bride and groom.
We all know a photo-bomb when we see one, but this kind of photo-bomb is not always intentional. Unlike your nephew "Timmy" with his tongue sticking out so far he could almost lick his nose just for the sake of being funny, these are normally obstructed or missed opportunities for the perfect shot to be captured.  Wedding photographers are paid a lot of money to capture these whirlwind and magical moments that occur during this wonderful celebration of love between two people: the ceremony, the vows, the first kiss, the first dance… but how often are these pictures squandered from their maximum potential by the guest jumping in the aisle to snap a quick shot with his iPhone? Far too many unfortunately.
Many couples have resorted (or even just kindly asked) guests to be "unplugged" from the technology world merely for the sake of enjoying the present moment as well as allowing it to be captured by a professional. This trend seems to be going well, and with good reason; photo-bombs and fuzzy or obstructed photos are getting old and are just plain annoying. Now this trend is great for a couple of reasons: 1) It lowers stress for the trifecta at the ceremony (bride, groom and photographer) 2) which leads to an overall more enjoyable experience for everyone in attendance, allowing everyone to actually be in the moment rather than uploading things to Facebook before the ceremony has even ended. (Sometimes live twitter feeds are not appropriate.) And finally, 3) The photographer will get the best and most professional shots they are able to (not to mentioned paid to do.)
If an entire unplugged wedding is too far fetched to ask your guests to endure, compromise by having an unplugged ceremony. No one will regret it when those memories are brilliantly captured.
So think about it for the day you tie the knot, we at Crave Catering sure do approve of the Unplugged wedding trend!