Vendor Spotlight: Full Spectrum Ice Sculptures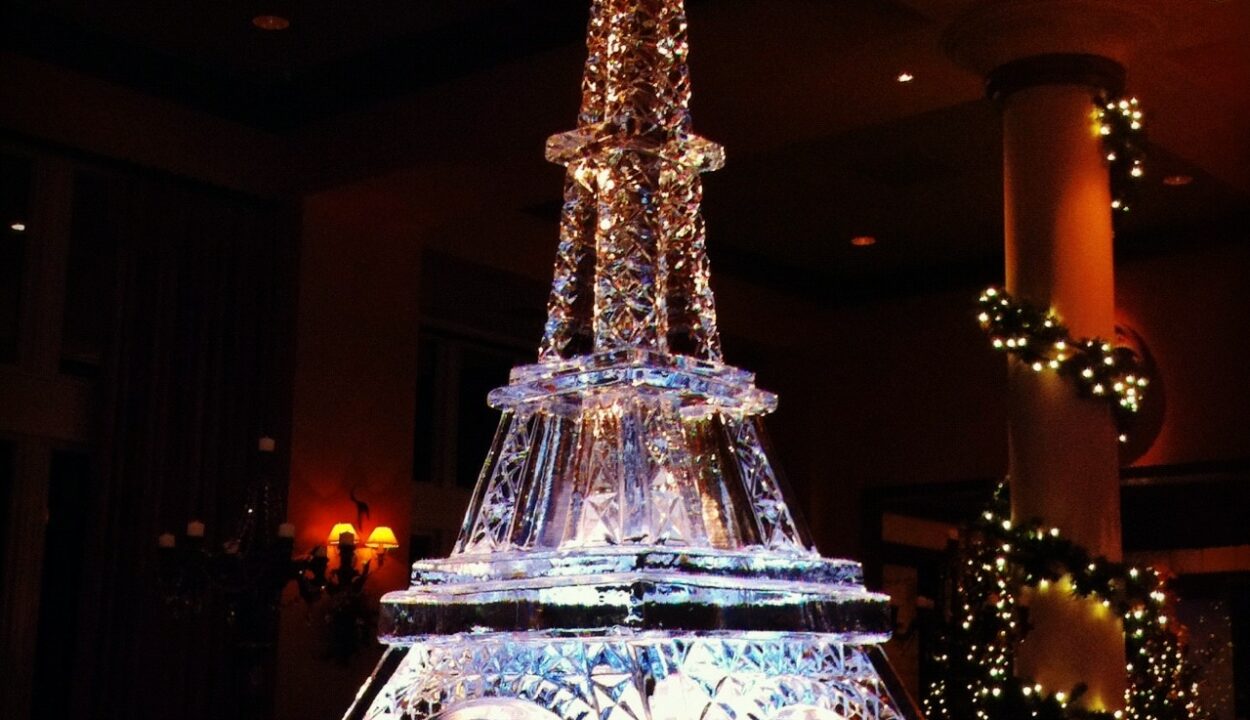 For this spotlight, we are focusing on a wonderfully skilled and creative vendor: Full Spectrum Ice Sculptures. Serving both Austin and San Antonio, Full Spectrum Ice specializes in high quality customized ice sculptures to fit any theme or event.
Owner and sculptor Sean Leahy began his career in the industry with an artistic background that has helped incorporate unique and innovative factors to his designs. His expertise has led to a variety of awards, and he has been recently recognized by the National Ice Carving Association as a Certified Professional Carver and Ice Educator.
As fellow winners of an Austin ISES Award, this luxury vendor has exhibited skill and professionalism time and time again to produce superior sculptures. It has been a pleasure working with such a wonderful and imaginative artist, not to mention how thrilled we were when we saw the beautiful sculpture made especially for Crave.
Here is a little more on what Full Spectrum Ice has to say about their endeavors:
How long have you been in business?
I have personally been sculpting ice since 2004. I worked for a company (Ice Visions) in St. Louis, MO for several years until I decided to start Full Spectrum Ice Sculptures. I moved to Texas in August 2010 and opened for business at the end of October 2010. This is my third full year in business!
 Give us some of your company history. What do you do?
Full Spectrum Ice designs, produces, and displays the highest quality custom ice sculptures for the client who appreciates consistently superior services. After earning a BA in Studio Art from Webster University, I was searching for a way to apply my degree and love for art in the "real world". I was introduced to the idea of ice sculpture by my older brother who is a chef. Historically ice sculpture is a culinary art and he had some interactions with the medium while he was in school and through his work. After our conversation, I reached out to the owner of Ice Visions and told him I was an art student interested in learning a new medium. I started working there that Monday. I caught the entrepreneurial bug working in that small business environment and knew that it was something that I wanted for myself. The transition from employee to business owner is a constant learning process that reaches far beyond sculpting. I work with clients directly to customize designs that fit their events and add an impact to their decor. Once an idea and direction is determined, I create a few designs to select from. This design process puts everyone on the same page and lets the client know exactly what they will be getting. The designing process also serves to create the templates used to sculpt the ice. Like I said earlier, there are a ton of non design/sculpting elements to running the business, but i'll leave it with the fun stuff.
What is unique about your business?
Sculpting ice in it of itself is a pretty unique business, but what separates me from other ice sculpting companies is my art background and ability to design. I like to combine functional displays with aesthetics that fit the individual customer's needs. This helps break up what is expected, looks great while fitting in with the rest of the decor and creates a memorable experience for the guests. I like to say "Think outside the blocks".
 What is one of your favorite aspects about your business?
One of my favorite aspects of my business is the ability to be creative while contributing to some great events. My sculptures can literally be anything and for any occasion. Figuring out the what and how is always a challenge that keeps me interested. The process is very satisfying for me as an artist and the final display at the event is the cherry on top. 
 What do you love about working with Crave?
What I love about working with Crave is their willingness to do different things and allowing some creative flexibility on my end. They make great food and it always looks delicious too. The food and ice compliment each other so well. I love how they make my products look better. They are also great about giving feedback to help improve our collaborations, making for better and better experiences for their guests.
 What has been your favorite event (or one of them) that you have done?
One of my favorite events was a Star Wars video game launch party. It was a huge, over-the-top event that was a ton of fun because of the attention to details from the movies and game that were incorporated in the event. Aside from the theme, it was great for me because I got to show a variety of products: color logos, 14′ curved bar with Ion cannon shot luges, and a life sized, ride-able Taun Taun (a creature from the planet Hoth used for photo opportunities). The ability to show off all of these techniques at one event showed my versatility and ability to execute on a large scale too.
 What's the best way for someone to reach you?
You can reach me and follow Full Spectrum Ice Sculptures in a variety of ways. Please follow us on all of our social media to keep up with the latest events and to get inspired for your events.
 What's the best advice you could give to a customer?
My best advice for customers is to consider what will give you the best bang for your buck AND be memorable. Ice can be relatively affordable (compared to other decor items) and customized to fit your specific needs. People don't always get to experience ice sculptures so they are inherently more memorable. Finally, don't be overly concerned that the ice will melt. ALL events come to an end and all of the elements of that event expire; the lights and music are turned off, the food gets eaten, the drinks drunk, the planner goes home, etc, etc. Ice sculptures are designed to create a WOW factor and last through out an event. A functional sculpture (ice luge, food display, photo opportunity) will have a great impact and give your guests a fun and memorable experience. 
Be sure to visit Full Spectrum Ice Sculpture's website here, but not before you see some of the amazing sculptures they've produced first!