April: National Soft Pretzel Month
Let's talk about pretzels. Some are salty, some are sweet, and April is the month we celebrate a particular kind of pretzel— the soft kind!
Some centuries ago, the first pretzels were created by Catholic monks. Using all the leftover scraps of dough not used when baking loaves of bread, the unique knotted shape came to fruition as a symbol for the Holy Trinity. This symbol has since evolved to have other meanings over the course of history. The phrase "tying the knot" originated from the same basic pretzel shape during the 17th century signifying the bond of marriage. Today, we see soft pretzels anywhere from sporting events to festivals and even weddings that we've catered!
Crave has been able to incorporate the soft pretzel into many of our dishes whether they are main courses or mini versions served as passed appetizers. They are extremely versatile and can be presented as a snack with salt and mustard or a sweet treat  when rolled in sugar and cinnamon.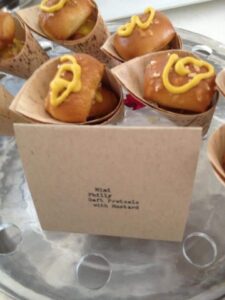 These soft pretzels are stuffed with philly cheesteak and topped with sea salt and mustard, a perfect snack at a reception or event!