Labor Day is near! Although that means the end of summer for most, all of us in Austin know we will be enduring the summer heat for a bit longer. The holiday gives us a chance to relax during the long weekend with friends and family. So whether it's a picnic, barbeque or a day at the lake, be sure to check out these recipes from Taste of Home to make the best of your Labor Day. These delicious appetizers, sides and entrees are great crowd pleasers that will perfectly complement any Labor Day activities.
Roasted Garlic and Tomato Spread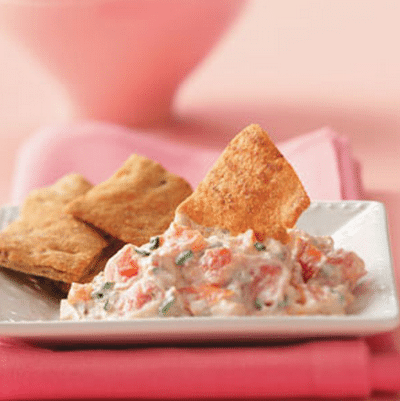 Photo credit: Taste of Home
Ingredients
2 whole garlic bulbs
3 teaspoons olive oil, divided
3 plum tomatoes, quartered
1 carton (8 ounces) spreadable chive and onion cream cheese
1/4 teaspoon Italian seasoning
1/4 teaspoon salt
Directions
Remove papery outer skin from garlic (do not peel or separate cloves). Cut tops off of garlic bulbs; brush each with 1/2 teaspoon oil. Wrap each bulb in heavy-duty foil. Place garlic and tomatoes in a foil-lined 9-in. square baking pan. Brush tomatoes with remaining oil.
Bake at 425° for 30-35 minutes or until garlic is softened. Cool for 10-15 minutes; squeeze garlic into a small bowl. Drain any liquid from tomatoes; chop and add to garlic. Stir in the cream cheese, Italian seasoning and salt. Serve with your favorite crackers or snack breads. Yield: 1-1/2 cups.
Nutritional Facts
2 tablespoons equals 89 calories, 7 g fat (4 g saturated fat), 18 mg cholesterol, 133 mg sodium, 4 g carbohydrate, trace fiber, 1 g protein.
Originally published as Roasted Garlic & Tomato Spread in Taste of Home August/September 2009, p45
Chipotle Lime Corn Cob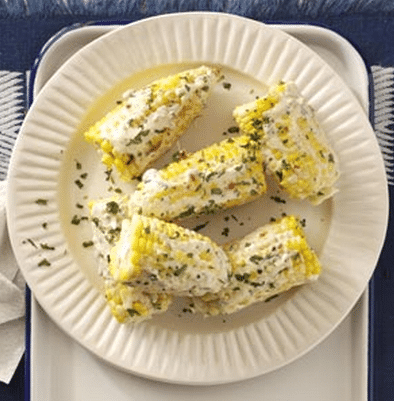 Photo credit: Taste of Home
Ingredients
6 large ears sweet corn in husks
1/2 cup mayonnaise
1 chipotle pepper in adobo sauce, finely chopped
2 tablespoons minced fresh cilantro
2 tablespoons lime juice
1-1/2 teaspoons grated lime peel
1 garlic clove, minced
1/2 cup grated Asiago cheese
Directions
Carefully peel back corn husks to within 1 in. of bottoms; remove silk. Rewrap corn in husks and secure with kitchen string. Place in a stockpot; cover with cold water. Soak for 20 minutes; drain.
Grill corn, covered, over medium heat for 25-30 minutes or until tender, turning often.
In a small bowl, combine the mayonnaise, chipotle, cilantro, lime juice, lime peel and garlic; spread one heaping tablespoon over each ear of corn. Sprinkle with Asiago cheese. Yield: 6 servings.
Nutritional Facts
1 ear of corn equals 289 calories, 18 g fat (3 g saturated fat), 13 mg cholesterol, 240 mg sodium, 28 g carbohydrate, 4 g fiber, 7 g protein.
Originally published as Chipotle Lime Corn Cobs in Taste of Home June/July 2011, p71
Pulled BBQ Pork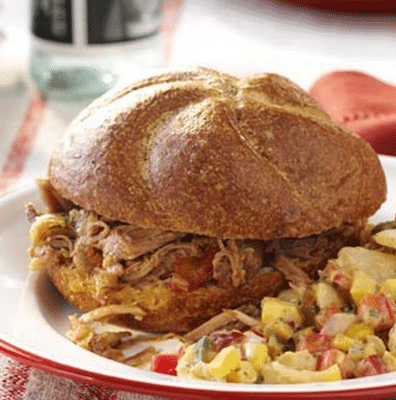 Photo credit: Taste of Home
Ingredients
2 medium onions, finely chopped
1 tablespoon canola oil
6 garlic cloves, minced
1 teaspoon crushed red pepper flakes
1 teaspoon pepper
1 can (14-1/2 ounces) diced tomatoes, undrained
1/4 cup packed brown sugar
1/4 cup cider vinegar
2 tablespoons hot pepper sauce
1 tablespoon Worcestershire sauce
1 teaspoon ground cumin
1 boneless pork shoulder butt roast (3 to 4 pounds)
8 kaiser rolls, split
Directions
In a large skillet, saute onions in oil until tender. Add the garlic, pepper flakes and pepper; cook 1 minute longer. Stir in the tomatoes, brown sugar, vinegar, hot pepper sauce, Worcestershire and cumin. Cook over medium heat until sugar is dissolved and heated through.
Cut roast in half. Place in a 5-qt. slow cooker; pour sauce over the top. Cover and cook on low for 10-12 hours or until meat is tender. Remove roast; cool slightly. Skim fat from cooking juices. Shred meat with two forks and return to the slow cooker. Heat through. With a slotted spoon, spoon 3/4 cup meat mixture onto each roll. Yield: 8 servings.
Nutritional Facts
1 sandwich equals 518 calories, 21 g fat (7 g saturated fat), 101 mg cholesterol, 528 mg sodium, 44 g carbohydrate, 3 g fiber, 36 g protein.
Originally published as Pulled BBQ Pork in Country Woman June/July 2011, p47
Peach Pudding
Photo credit: Taste of Home
Ingredients
1 cup all-purpose flour
1/2 cup sugar
2 teaspoons baking powder
1/2 teaspoon salt
1/2 teaspoon ground cinnamon, optional
1/2 cup milk
3 cups sliced peeled fresh or frozen peaches
TOPPING:
1/2 cup sugar
1/2 cup packed brown sugar
1 tablespoon butter
1/4 teaspoon ground nutmeg
Half-and-half cream
Directions
In a large bowl, combine the flour, sugar, baking powder, salt and cinnamon. Stir in the milk just until combined; fold in peaches. Spread into a greased 8-in. square baking dish.
In a large saucepan, combine the water, sugars, butter and nutmeg. Bring to boil, stirring until sugars are dissolved. Pour over top. Bake at 400° for 40-50 minutes or until filling is bubbly and a toothpick inserted in topping comes out clean. Serve warm or cold with cream. Yield: 8 servings.
Nutritional Facts
1 piece (calculated without cream) equals 253 calories, 2 g fat (1 g saturated fat), 5 mg cholesterol, 269 mg sodium, 57 g carbohydrate, 1 g fiber, 3 g protein.
Originally published as Peach Cobbler in Country Extra September 2009, p49
Original post: